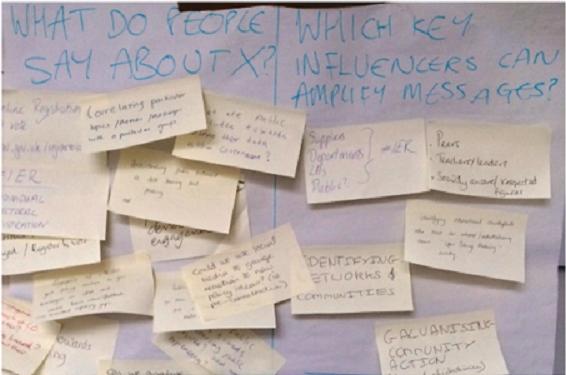 The A&I team aims to use the best evidence available to support policy making, and we are keen to use innovative analytical approaches to produce new insights. According to the ONS, almost half of adults in the UK used social networking sites in 20121. This provides a wealth of data which could potentially be used to inform Government policy. For that reason, part of our L&D offer to Cabinet Office analysts focuses on pioneering social media analytics.
What are social media analytics?
Social media analytics can be used to answer various questions, including:
What are people saying about a certain topic?
Which key influencers can amplify messages?
Are messages reaching the right demographics?
How effective have policies been and how can we improve them?
There are a range of tools that can be used to address these questions. We are keen to understand which tools could best serve our aims, while minimising costs.
Introduction to social media
To kick off the conversation, we spoke to people from academia, the private sector, Government and think tanks about the use of social media in policy making. We sought a range of views from the private sector, and Desiree Lopez (Managing Director at TNS BMRB) and Chris Perry (CEO of Fabric) then kindly agreed to host an introductory session on social media analytics. They gave an overview of the available techniques and provided practical examples of how social media is being used in social research and policy making. This session was widely attended and helped us think about ways in which social media analytics could be applied to our own work.
Social media workshop
Following on from the introductory session, we organised a workshop bringing together people from across the Cabinet Office. The aim of this was to identify a set of research questions that we would like social media analytics to answer. Colleagues from the Government Digital Service also attended to help us understand what is feasible and how the questions could be addressed.
Next steps
At the end of the workshop, we agreed that an initial first step would be to identify a pilot project to illustrate what could be done with social media analytics. Government Digital Service generously agreed to help us implement this.
One of Cabinet Office's priorities is to understand the implications of data sharing within Government. A recent open policy design exercise on measures to reduce fraud, error and debt highlighted a lack of information on public attitudes and beliefs in this specific area. We are therefore currently scoping out a social media analysis project with the Data Science Team to look at this and will keep you updated on our progress here.
Want to get involved?
We are keen to use a collaborative approach to improve Cabinet Office's social media analytics capabilities. If you have any ideas for further analysis, experience in social media analytics or any other comments we would love to hear from you.