I'm Ben, a summer intern within the Analysis and Insight Team. My 9 weeks here have been a fantastic experience and I've worked on some very interesting projects. This post is about my time here.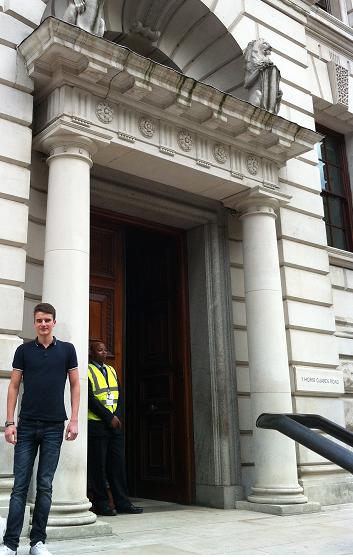 The Government Economic Service summer placement scheme
The opportunity to work in the Analysis and Insight Team arose through applying to the Government Economic Service (GES) summer vacation placement scheme. The GES organises the recruitment of students studying economics for placements in various government departments, including the Cabinet Office.
I'm an undergraduate studying economics at Newcastle University, and will start my final year in September. I was attracted to the GES, particularly the Cabinet Office, as it presented the opportunity to combine my degree with government policy in a wider variety of areas.
Informing policy development from the start
I started my placement in June and immediately got stuck into my first project: building an economic case for placing solar panels on the government estate. The aim is to save the government millions of pounds by producing some of its own electricity rather than purchasing it all. I created a model of the project's estimated costs and benefits. This included making estimates such as how much electricity would be generated, then combining this with forecast electricity prices to produce a figure of how much money would be saved. This economic framework will be developed and form a crucial part of the business case for the project.
Applying economic knowledge to Cabinet Office policy issues
My other major project was to work with the three other interns in Cabinet Office to identify economic and social trends over the next 5-10 years and consider how they could affect the Civil Service. My focus was on how changes in the labour market could have an impact on civil servants. This included exploring how factors such as technological advances, the rise of Massive Open Online Courses (MOOCs), and an ageing workforce might have an impact on the Civil Service. After independent research we organised a presentation and discussed our findings in front of over 30 colleagues. The intention is that my research will be used as a starting point for more detailed work in this area.
The placement has been a fantastic experience
I have learnt loads and improved many skills that will be useful in future jobs, such as planning, organisation and teamwork. I've also had the chance to visit other departments including the Treasury, the Department for Transport and other parts of the Cabinet Office including the Government Digital Service.
I would recommend applying to the summer scheme to anyone studying economics – more details can be found on the GES website.