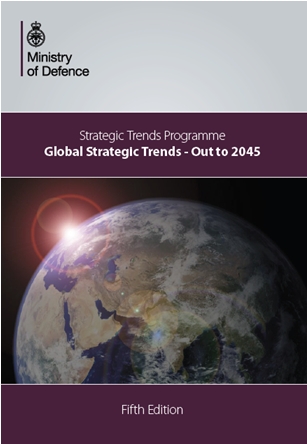 On Monday 30th June the Development, Concepts and Doctrine Centre (DCDC) launched the fifth edition of Global Strategic Trends – Out to 2045.
The report identifies long-term threats and opportunities looking thirty years ahead, based on rigorous analysis and discussions with subject-matter experts from both domestic and international governments, academia and businesses.
What is the Global Strategic Trends analysis?
The first Global Strategic Trends was published in 2010. The reports have been used by the Ministry of Defence to inform the National Security Strategy and provide context for Strategic Defence and Security Reviews. DCDC's analysis is really valuable because it describes both the trends and the plausible outcomes that may happen as a result of them, giving policy and decision makers something tangible to consider. The first part of the report sets out trends according to 13 themes, covering areas such as 'Demography', 'Urbanisation' and 'Automation' & 'Work'. The second part considers regional and country-specific impacts of each theme.
There isn't time in a short blog post to cover all the findings in detail. However, there are some important messages worth highlighting:
The global population is likely to grow between 8.3 billion and 10.4 billion by 2045, largely because of increasing life-expectancy, declining levels of child mortality and continuing high birth rates in many developing countries.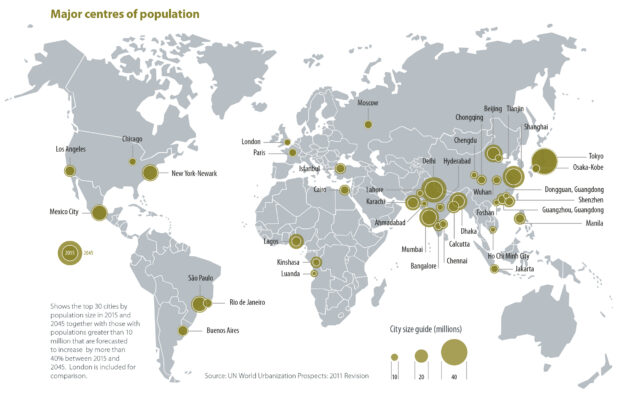 Over 70% of a growing population looks set to live in urban areas by 2045. Urbanisation is likely to enhance economic and social development, but – without mitigation measures – may also lead to pressure on infrastructure and the environment which could contribute to social tensions within the urban population.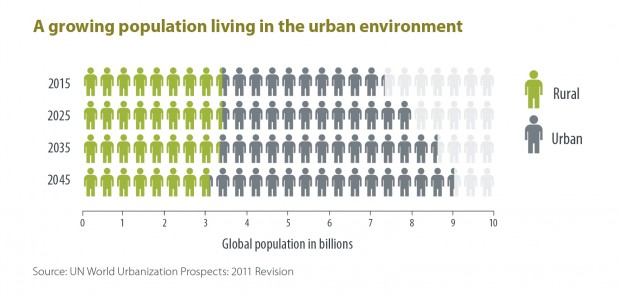 Revolutionary advances in how we acquire, store and analyse information, together with dramatic increases in computing processing power, are likely to give us the ability to predict accurately a wide range of phenomena, from crime hot-spots to the effects of climate change.
By 2045, 'unmanned systems' (able to carry out complex tasks without a human operator's direct involvement) are likely to be as ubiquitous as computers are today. We could also see robots used in many more areas of work and society, including caring roles, customer service, surgery and in combat.
Why is this work useful?
Although DCDC's analysis has been developed for the Ministry of Defence, there are many insights in the report with much wider applications. The Horizon Scanning Programme team set up a session where directors from across Whitehall could hear from the experts in DCDC, exposing the report's findings to a much larger audience than in previous years. Departments were in turn able to add their own insights to DCDC's trends, helping to strengthen both the final product and its impact. Issues like demography, urbanisation and emerging technologies affect all parts of government. Understanding the trends that will shape the future helps policy makers to better prepare for those uncertainties.
The video below shows a short summary of the findings:
If you would like any further information on DCDC or the Global Strategic Trends programme, please email dcdc-strategictrends@mod.uk