One of the remits of the Analysis and Insight team is to support the Office for Civil Society. We do this by helping to evaluate the impact and value of its policies and programmes.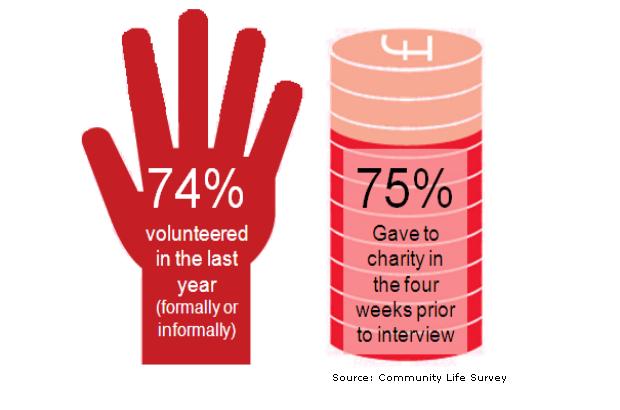 What is the Office for Civil Society?
Since May 2010, the Office for Civil Society has focused on developing and delivering programmes that have two priorities:
Encouraging Social Action and building Social Capital, especially in communities that need more support.
Helping Civil Society seize the opportunity to play a bigger role in shaping how communities work together and how public services get delivered.
How do we support it?
We use our social research, economics and statistical skills to help policy teams understand how to implement programmes, assess whether they've been effective and whether they provide value for money. We currently provide a range of analyses. Examples include:
The Community Life Survey
We project manage and analyse this survey, which tracks trends in key policy areas such as social action and community empowerment, and forms Official Statistics. The 2013-14 headline findings have recently been published and we have also tested an innovative online version of the survey from which we expect to publish findings at the end of summer 2014.
Social Action & Youth Policy
We lead evaluations of key programmes to determine effectiveness and value for money, and support teams to measure and demonstrate success, for example:
Evaluating the short- and longer-term impact of National Citizen Service through surveys and data linking to support the development and scale up of such work.
Developing new surveys to support Step Up to Serve to understand progress towards their goal of doubling the number of young people involved in social action.
Social Investment
We provide economic analysis supporting policies to grow the social investment market. Most recently, we worked with colleagues from the Department for Work and Pensions to determine prices paid to providers working with young people at risk of becoming NEET (not in education, employment or training), funded through the £16m Youth Engagement Fund. This is a cross-government initiative aimed at using social investment to achieve better outcomes for young people. Our analysis helps ensure we achieve value for money.
What you can expect from our blog posts
We will use this blog to update you on our latest news and analyses and to promote the importance of including analysis in policy design. We would welcome feedback and encourage you to comment on our posts.