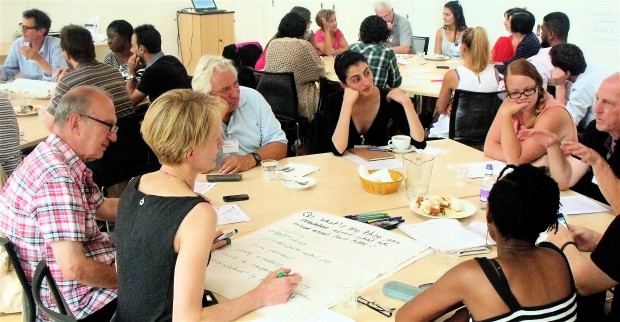 Wellbeing - Continuing the Public Dialogue
The Office for National Statistics Measuring National Wellbeing Programme started in 2010 with a national debate. Meetings up and down the country asked people "What matters to you?" Thousands of people participated in events and tens of thousands sent in their views. A new framework for measuring national progress emerged grounded in people's views about what is most important in their lives.
So how can we continue the dialogue and build on this success? Can wellbeing be used to frame the debate around specific policies and thereby improve the quality of public engagement with policy? Is such a process useful to policy makers?
This year we have been testing this through an experimental project in partnership with Sciencewise. By introducing the science of what drives wellbeing into public dialogue we have been exploring whether this combination helps people to think more deeply about the personal impacts of policy and also to think about how it might affect others.
Three policies viewed by the public through a 'wellbeing lens'
The project was led by the New Economics Foundation (NEF) with Hopkins van Mil, and involved public events to consider three policy themes: loneliness, the take-up of community rights and increasing the incomes of low earners.
Participants were identified to include a diverse range of people who would be affected by the three policy themes. Each participant attended two workshops. At the first workshop participants were introduced to the policy topic and came up with some initial thoughts and suggestions. At the second workshop participants reflected on the results of the first and challenged the ideas emerging.
Participants were presented with scientific evidence on what influences wellbeing and at both workshops they were encouraged to think about how the policy and ideas might affect their personal wellbeing.
The results can be challenging, but the process works
'Wellbeing dialogues' do help to open up the policy process and are effective at capturing public insights. The results can be a mix of the challenging and the supportive. Some views are potentially actionable and others less so, but they all provide food for thought. Policy makers involved in the process found listening to the dialogues a valuable exercise which also helped them to better appreciate how the public interprets and understands a policy issue, as well revealing their views on how they would address it.
Importantly, policy leads found that creating the time and space after the public events to reflect on the findings was a particularly valuable part of the process which has the potential to support innovation and enhance policy development.
Connecting people to policy - building on this process
Overall this was an experimental project to test the process and as such the results are encouraging. We plan to build on this work by capturing the methodology in a toolkit and we will explore the possibility of using this toolkit in a second round of dialogues.
'Wellbeing dialogues' are likely to be most valuable earlier on in policy development in order to build public insights into key decision points.
Tell us what you think
We have been challenged to embed wellbeing into policy decision making – and this project is one example of how we are trying to do just that.
Read the report here www.neweconomics.org/talkingwellbeing and tell us what you think in the comments section below.