Over the past six months the Employee Engagement Team has been leading the "Being an Inspiring Team Leader" theme at Civil Service Live 2014.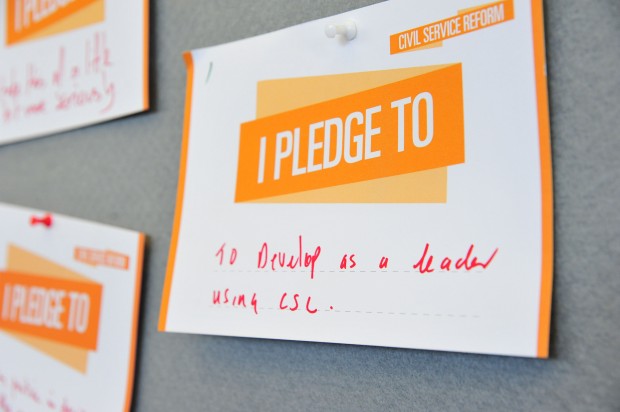 Collaboration is at the heart of how the Employee Engagement Team works, so in early 2014 we involved our cross-government community of employee engagement practitioners to generate ideas. We then worked with a steering group from MOD, HMRC, DWP and MOJ to deliver a programme of sessions with capacity for over 6,400 attendees across the five days!
Great managers and team leaders are crucial to success
We quickly identified that we wanted to focus on 'engaging managers', one of the four enablers of employee engagement identified by the MacLeod Report. We know that sometimes the phrase "employee engagement" isn't understood very well and that some people don't think of themselves as 'managers'. Instead we felt that 'team leaders' was more inclusive and that the best team leaders we've worked for have inspired us to do amazing things.
We also decided that we wanted session that would make attendees "think, feel and do something different" when they went back to the office. Ultimately this led to the development and delivery of seven different sessions for each day of Civil Service Live 2014, one plenary talk, one panel discussion and five workshops.
Think and feel
At four of the five days of Civil Service Live we used our plenary session to tell the story of what inspiring team leadership looks from the front line to the top of the office across in a particular organisation. Thanks to colleagues from MOD, Crown Commercial Service, HMRC and DWP who participated. We used a further plenary session to look at whether women faced different challenges in being inspiring team leaders, chaired by Sue Owen (Permanent Secretary, DCMS).
Our panel discussion "What's the secret to a great team?" involved video content from DWP alongside a panel of public, private and voluntary sector participants sharing their thoughts and experiences of inspiring team leadership.
Do something different
Our five workshop sessions were designed to give attendees practical things they could 'do' back in the office. We only had 45 minutes so these were all taster sessions, distilled from much longer content.
Our sessions on emotional intelligence, personal resilience and neuroscience gave attendees insights into how people think and react, and how this influences workplace relationships and experiences.
Great session fm @mattkerlogue Resilience is a skill to learn.Practice regularly with small issues.#civilservicelive pic.twitter.com/m3g81bpawu

— Helen Anderson (@hganderson) July 16, 2014
Relationships were very much the focus of our fourth workshop, provided by colleagues at HMRC, focussing on how to build and maintain trust. Finally, another workshop provided by HMRC demonstrated their People Impact Assessment Toolkit which can be used by those delivering or leading changes to identify and mitigate the impacts of change on staff.
So that's what we did, but how did it go? Next week we'll post some of our reflections on how the sessions actually went in practice. Did you go to any of our sessions, if so, what did you think of them?