Sitting within the Analysis and Insight team, the Employee Engagement team manages the annual Civil Service People Survey and supports Civil Service organisations to embed employee engagement via our community of survey and engagement managers in departments and agencies.
What is Employee Engagement?
Employee engagement is "a workplace approach designed to ensure that employees are committed to their organisation's goals and values, motivated to contribute to organisational success and able at the same time to enhance their own sense of wellbeing." Professor David Guest, Professor in Organisational Psychology & HR at King's College London
The Civil Service is committed to measuring the engagement levels of its staff and the factors which influence and drive engagement. By taking action to improve our people's experiences of work we increase levels of employee engagement which ultimately raises personal and business performance and enhances personal wellbeing.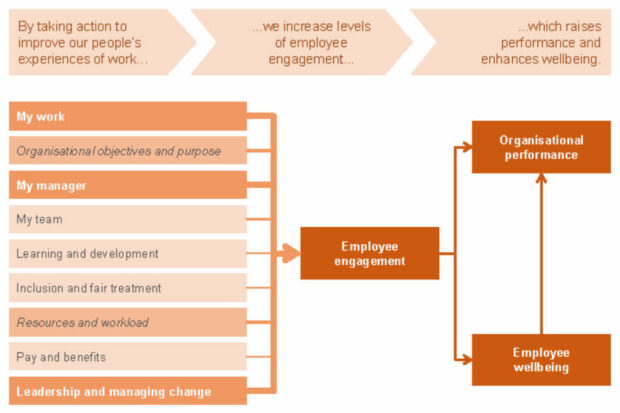 How we measure Employee Engagement
Government departments and agencies participate in the annual Civil Service People Survey, which measures the attitudes and work-life experiences of our staff. We do this because:
• our people are most important asset – without them we can't deliver the work of government
• it gives everyone (from Admin Assistant to Chief Executive) an equal voice
• by being completely confidential, staff can be completely honest
The fifth survey took place in October 2013. 270,793 people took part – more people than live in Derby. The Civil Service level results from 2009 to 2013 are published online. The sixth survey will take place this October.
In addition to the Civil Service and organisation level results which are published to hold senior leaders to account, results are produced for over 8,000 teams. This allows leaders, managers and staff at all levels of the Civil Service to take action to improve employee engagement.
Where this came from
The 2009 report to government, Engaging for Success, David MacLeod and Nita Clarke identified the important role that employee engagement plays in successful organisations. A follow-up report in 2012 provides further evidence on the business case for employee engagement. Employers (including Barclays, BAE, John Lewis and O2), unions and academics all agree on these enablers and the importance of employee engagement.
The Civil Service participates in the cross-economy Engage for Success movement that has come together since the 2009 report. The movement's website is a great resource full of useful tools, advice, videos, guidance and case studies that can help to improve levels of employee engagement.
What you can expect from our blog posts
We will use our blog posts to update you on our work. We will share the results of the annual People Survey and best practice in employee engagement, and we'd welcome your feedback and comments on our blog posts. Please do ask us any questions or suggest any material that might be useful to us.