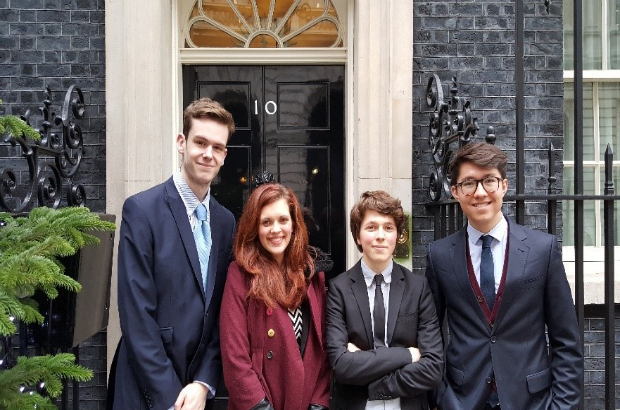 In December we had the pleasure of hosting a team from the Hertford Business and Economics Society, and their Principal at Hertford College, Oxford, Will Hutton. The team of students had just completed a study on the implications of wellbeing research for government policy and they came in to present their findings.
Three principles…
You can find their report here. Based on a review of literature, interviews with experts and discussion events they offer three guiding principles:
assess policy against its impact on the drivers of wellbeing with less focus on measurement;
integrate wellbeing into each policy in a unique way – no one size fits all 'top down' solutions;
mental health is the most important determinant of wellbeing – it must be an overarching consideration.
…with two initial recommendations focused on education and the workplace
Based on these principles they made three recommendations overall. First, the team recommended OFSTED inspect on 'pupil wellbeing' and that universities measure student wellbeing. Transparency of pupil and student wellbeing, it was argued, could encourage better local attention to wellbeing services in schools and universities. Their second recommendation was that large businesses should account for the wellbeing of their employees by reporting their actions and financial investment in employees. Again such transparency would, it was argued, incentivise businesses to invest more in the wellbeing of their employees.
There is much to debate on the specific recommendations themselves – we particularly have to be careful placing additional burdens on schools and businesses for example, especially when there are other lighter touch alternatives such as sharing good and innovative practice. However there is also much to agree with, particularly on the recommended areas of focus. Research clearly shows that wellbeing at younger ages is predictive of adult life satisfaction – so support in the earlier years, particularly in childhood should reap downstream benefits through the life course. We recently blogged on our children's wellbeing event highlighting some current policies and considerations.
Work also clearly contributes to our life satisfaction and sense of purpose. Last year BIS published research showing the association between worker wellbeing and performance and many companies clearly understand this and take the wellbeing of their employees seriously. Work and learning is one of the evidence programmes which the What Works Centre for Wellbeing is prioritising, so our understanding of the evidence in this area will improve over the next few years.
…and a third recommendation on how to assess the wellbeing potential of policies
The remaining recommendation in the report was particularly interesting. The team argued that quantification of wellbeing has gained too much attention and that decision makers should instead assess policies in a qualitative way by analysing how they will impact the different aspects and drivers of wellbeing.
The authors actually went further in their rationale for this recommendation and concluded wellbeing measurement is not yet up to task of supporting policy. This last point is highly contestable – wellbeing measurement and science has moved forward tremendously over the last four years and there is a wealth of evidence to the contrary, that wellbeing measurement is producing valuable insights. MPs concluded as much in their inquiry on wellbeing in 2014. However, setting the rationale for the recommendation to one side – the recommendation itself, to make use of qualitative assessments is an excellent one.
Making wellbeing research more accessible to policy makers
There has been much focus in recent years on defining, measuring and analysing wellbeing and there is a large body of evidence and academic research in this area. However, the research and analysis is not always accessible to decision makers in the right format and at the right time. Furthermore, approaches to creating and interpreting wellbeing evidence can be complex and are often more suitable for analysts and social researchers to make use of.
So what can policy makers do for themselves? We have developed some simple exercises specifically to bridge the gap between wellbeing research and practical decision making. They draw on what we know drives wellbeing and raise some basic questions to prompt deeper thought about the wider impact of policy options. They are very much in the spirit of what the team from Hertford recommend. You can find them here. Please let us know if you find them useful or have recommendations to improve them.
A new cadre of economists well versed in wellbeing science
There has been some debate over the past few years about how universities teach economics post- financial crisis, and about getting new economic approaches like wellbeing into curriculums. It really is great to see the interest and commitment to studying this and that new economists will be leaving university well versed in wellbeing science.
Congratulations to Olivia, David, Kim and William on your report – and thanks again for coming in to present it.